World Changers in Action!
Serve To LEAD is honored to influence the lives of many young people to grow in faith and take action through service to bring wholeness and restoration to the world around them.
Osha is a junior who attends the School of Inquiry and Life Sciences at Asheville High. She participates weekly in Serve To LEAD's high school community club. This summer Osha will join our Dominican Republic student service team and will participate in community development projects alongside our in-country partners.
She believes it is important to give back every chance she has. Through our global leaders program she says "I have a different mindset than before on life and the resources available to me. I am growing in my personal values of faith, loyalty, and good health." Osha says faith guides her decision "to step into other's shoes and offer love and care." This is a core value that she strives to practice daily.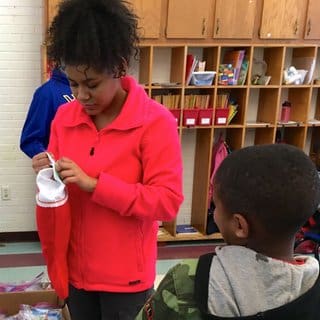 "Through prayers, devotions, service, and conversations, Serve To LEAD is strengthening and benefiting my personal relationship with Jesus Christ" (Osha). 
Osha's participation in our weekly youth development programs and the opportunity that she has to join Serve To LEAD's Dominican Republic student service team is only possible through financial support from donors like you.
Help us continue to grow young servant-leaders who embody the love of God and seek to make the world a better place! Please help today at goservetolead.org.